The national MMPA team currently comprises of over 25 people ranging from registered professionals, candidate professionals, students, student interns and support staff who are all flexible to be dispatched to our client's project locations, which enables our clients to have a trusted and experienced team made up of the necessary skills, irrelevant where the project site is based.
Our vastly experienced team excel at value engineering, ensuring that our client's get the best value for the money they spend. Our team employs all the latest electronic measuring software available.
Empowerment, Equity and Skills Transfer
There is a structured skills development and skills transfer plan within the organisation.
MMPA holds ongoing training programs where our staff are enrolled for mid-career courses covering a number of areas including property development and information technology to ensure we are able to offer best practise in the industry.
Our company recognised the need to uplift and empower previously disadvantaged individuals as far back as 1988. MMPA supports student quantity surveyors at tertiary institutions and can boast having sponsored 18 people through tertiary institutions to obtain their quantity surveying qualifications.
MMPA also gives these students workplace experience during their vacations and endeavours to provide permanent employment once qualified.
MMPA remains committed to Black Economic Empowerment and has achieved the following results:
SHARES CURRENTLY IN THE HANDS OF HISTORICALLY DISADVANTAGED INDIVIDUALS (HDIS)

51%

PERCENTAGE OF THE WORKFORCE THAT ARE HDIS

60%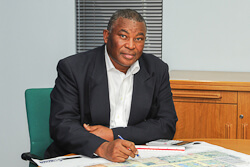 Wiseman Maqetuka (PrMAQS, PrQS, PrCPM)
Managing Director
Wiseman graduated with a BSc in Quantity Surveying from the University of Cape Town. He then proceeded to obtain professional registration as a quantity surveyor and project manager with the respective councils.
His physical presence combined with high levels of integrity and decisiveness have seen him assuming various leadership positions such as Chief Quantity Surveyor at the Department of Public Works, Managing Director at MMPA and Chairman of the Association of South African Quantity Surveyers. He is well known for his contributions to the health sector both for the client and as a consultant project manager.
Wiseman has over 25 years of service in the industry and is responsible for ensuring the financial wellbeing of MMPA.
Dennis Taylor (PrMAQS, PrQS)
Director
Dennis Taylor graduated with a BSc in Property Development and Honours in Quantity Surveying from the University of Natal.
Dennis brings with him the exuberance of youth and has been tasked with the responsibility of ensuring that MMPA keeps abreast with the latest technologies and methods. This has been key to MMPA being able to remain competitive in an ever-changing environment.
Dennis has over 14 years of service in the industry and is responsible for the procurement of new work for MMPA.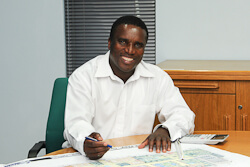 Luyolo Kabeni (PrMAQS, PrQS)
Director
Luyolo affectionately known as McGregor graduated with an NHD in Building from the Port Elizabeth Technikon. He followed the route of first gaining experience as a contractor before joining MMPA and thereafter gaining registration as a professional quantity surveyor.
His experience has given him a unique perspective to quantity surveying from both an approach and technical point of view. It has also stood him in good stead for managing the unique challenge of guiding emerging contractors to successful project completions.
McGregor has over 25 years of service in the industry and is responsible for leading MMPA's project implementation teams.